Sweet almond oases, wind swept mountains, lute-playing paratroopers, Keith Richards lookalikes, a pyramid man and Billy The Kid Elliot – just some of the places and characters we have encountered.
Just outside Tafraoute is a picture perfect oasis – complete with a well, almond blossom and palm trees.
It was a beautiful and tranquil spot. The delicate blossoms were soon replaced with craggy windswept mountains as we crossed the Jebel Bani and head toward the desert.
The ever-changing landscape of Morocco is a daily delight, altering sometimes by the hour as we travel, from the high sided canyons of the Ait Mansour gorge….
to the surprising oasis in a gully barely visible just a few feet away…..
to the endless skylines of the Atlas Mountains.
We stopped for a couple of nights at Agdz – a pivot point from which you can head north toward Marrakech or, in our case, south to the desert.
We have been confused about the difference between a kasbah a, riads, ksars and such like – so now we know, we can pass it on.
A kasbah is a walled private house.
A riad is a walled garden with trees. It has become synonymous with a guest house these days, especially in Marrakech, but a night in a real riad will leave you outside hugging a fruit tree!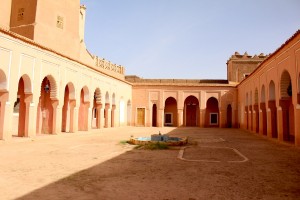 The riad – or walled garden. Sadly the orange trees around the fountain are gone
A ksar is a walled village.
In theory you can have a riad inside a kasbah inside a ksar….. but we digress.
So, back to the kasbah – built with earth bricks, baked hard in the sun and a richly painted interior.
The first level of bricks are always the same dimensions – 1mx50cmx50cm. They are built insitu and then left to bake in the sun and air until strong enough to take the rest of the building… no chance of a 12 week finish or your money back here.
It was an interesting tour, but we found the descriptions of the family dynamics much more fascinating. How do you sort out who gets what when there are nine brothers….. Not easily or happily apparently!
Inter-familia disputes are a far cry from the laid back attitude of brothers Abdulliah and Belaid, who greeted us and then oft- repeated their mantra " take your time" as we pulled into their aptly named
Prends ton Temps
(Take Your Time) campsite in Zagora.
Zagora is known as the gateway to the Sahara in Morocco.
Belaid spent 21 years in the Moroccan army as a paratrooper, eleven of those years in the desert on the disputed Moroccan/Algerian border. He's the size of a shed, with a sun-splitting smile and likes nothing better these days than playing his eleven-string lute.
Abdulliah is pencil thin with more than a passing resemblance to Keith Richards and just as full of bonhomie as his brother. They make a great pair and were easy-going, charming hosts.
A six-pointed star made of multiple equilateral triangles. The real thing will be about four- storeys high and if you like the look of it, he's looking for sponsors.
Not taking his time at all was the camp goat.
For his constant dancing and prancing around the site, we named him Billy Elliot and delighted in his endless excitement and amazement of the world around him – we know the feeling!
As usual there are plenty more photos in the slideshow, so…kick back, take your time and enjoy the show.
Related Posts via Categories